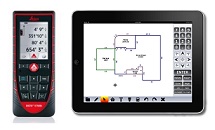 We work hard to provide reliable and efficient services for our clients, and as part of that commitment we have embraced the latest technology. By using mobile devices out in the field, we have eliminated the cumbersome paper and clipboard, meaning more reliable real estate appraisals for you.
Traditional real estate appraising involves going to the job site and gathering massive amounts of data including an accurate sketch using paper, pen, tape measure, and clipboard. From there, you still have to manually type that data into the computer at your office, which can lead to errors. Many real estate appraisers still use this error-prone, time-consuming method today.
Being a mobile real estate appraiser means we no longer have to worry about a clunky clipboard with tons of paper or a tape measure. With the use of an iPad and laser measuring device, the information is synced straight to the office without ever having to enter in that data again, meaning a more reliable product for you. The laser measuring device also provides the most reliable measurement (accurate to the 1/16 of an inch from a distance of up to 650').
We then use the most recent valuation techniques and resources online to determine important value and inventory trends in your area.  And because we are local, we are in these neighborhood analyzing these trends everyday.
Give us a call today with any questions you might have and also check out our Testimonial page to see what others are saying about Premier Appraisal Services of Tallahassee.